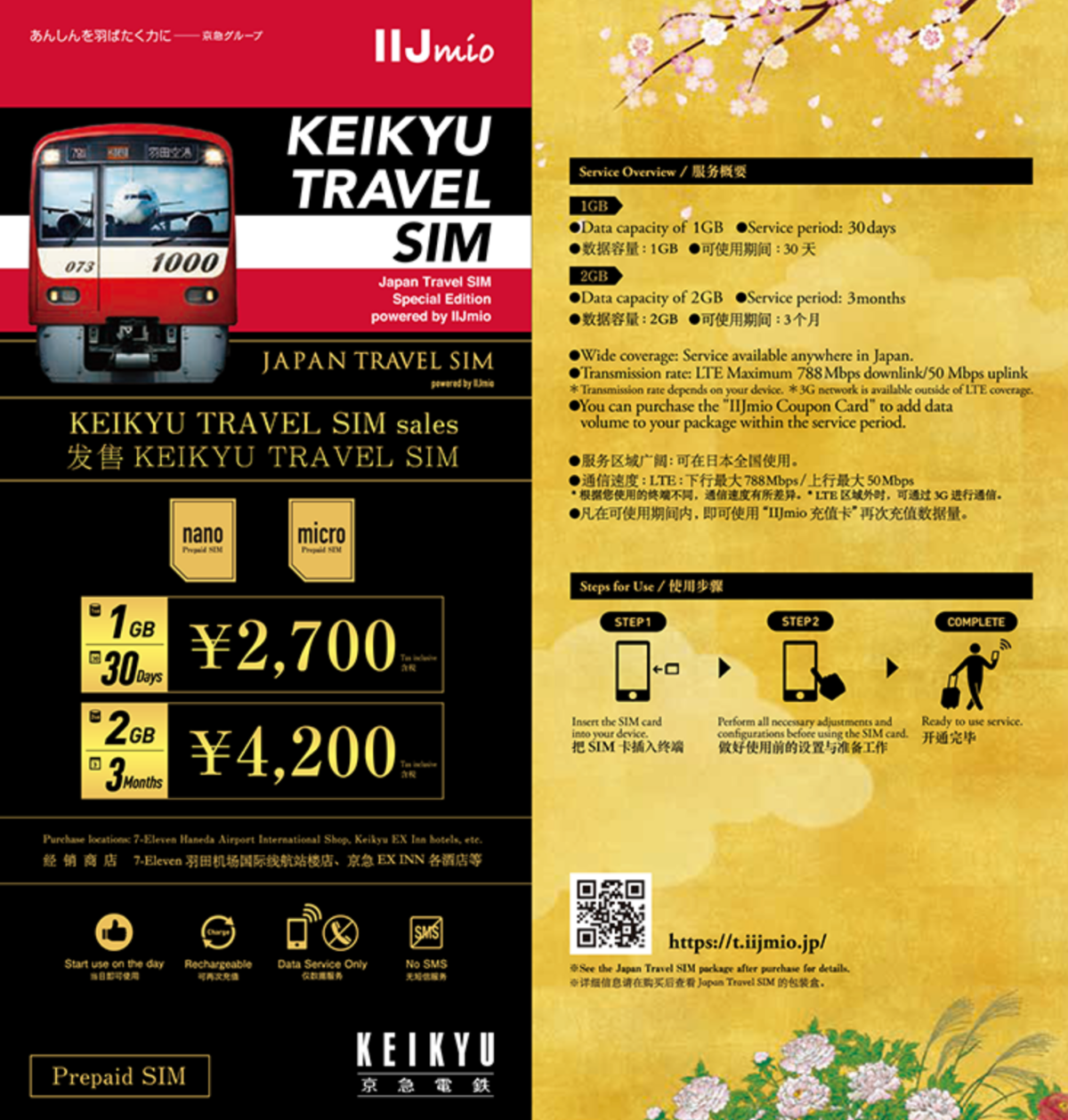 Keihin Electric Railway Co., Ltd. will sell the SIM card "KEIKYU TRAVEL SIM Japan Travel SIM Special Edition powered by IIJmio" from February 7, 2018 for foreigners visiting Haneda Airport(Tokyo).

The place of sale is Seven – Eleven within the Haneda Airport International Terminal Station, the whole building of the accommodation – specialized hotel "KEIKYU EX INN".
The sales location will be gradually expanded in the future.
■About SIM
Type:1GB (30 days) or  2GB (3months)
Selling price:2,700 JPY (tax included) or 4,200 JPY (tax included)
Addition of data communication amount:Yes
Communication speed:Downstream maximum 788 Mbps, Upstream maximum 50 Mbps
Type of SIM card:micro SIM, nano SIM
supported language:Japanese, English, Chinese (Simplified / Traditional), Korean, Thai
Sales store:Seven – Eleven Keikyu ST Haneda Airport International Terminal, KEIKYU EX INN(Accommodation type hotel) 13 hotels
Many kinds of SIMs are sold at many shops in Haneda airport. The price and usability of SIM to be released this time is normal.
All of the SIMs sold are similar but the usable period and capacity are different.
My recommendation is Softbank's "Prepaid SIM for Travel" sold at "Air BIC CAMERA" in arrival area on international flight 2F.
The communication speed is stable and the usable period is as long as 31 days.
The price is 2,678 JPY including tax with capacity 1GB.

[via=KEIKYU]