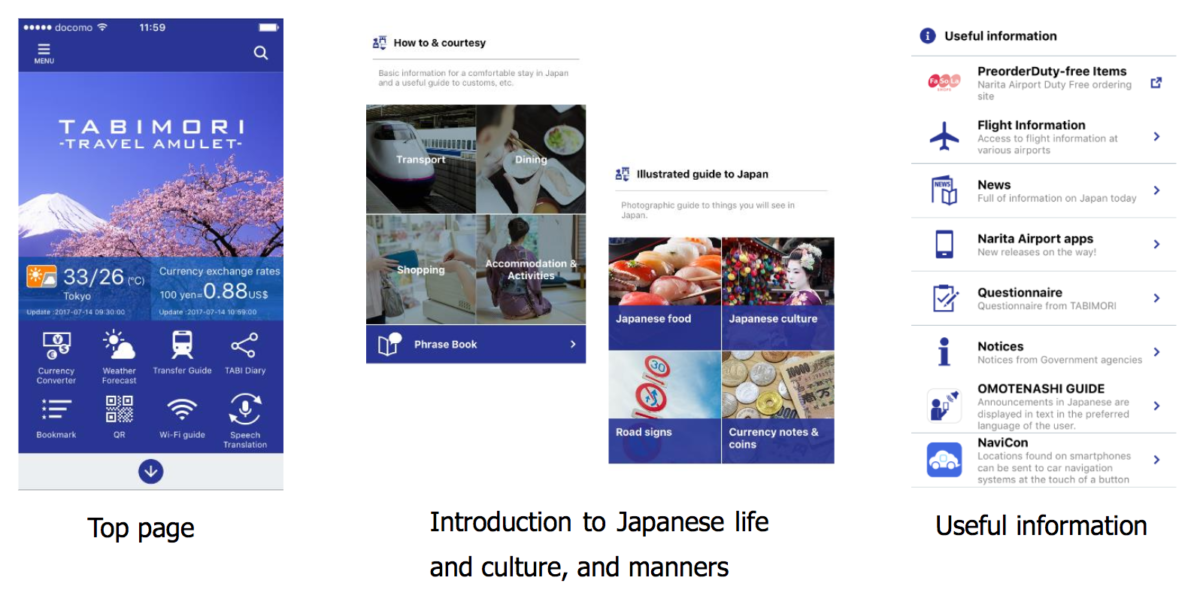 Narita Airport's hospitality app, TABIMORI, was released in July 2014 as a far – reaching solution for visitors to Japan when faced with a problem or simply when they want to k now or learn about anything in particular.
NAA is relaunching the app with a major upgrade that provides additional languages and function alitie s as well as a new design to boost it s convenience and ease of use.

・Relaunch date: 31 July 2017
1, Download free from App Store or Google Play Languages increased from 5 to 9 ・ In addition to the 5 existing languages (English, simplified and traditional Chinese, Korean and Japanese), the app now supports four more languages: Indonesian, Thai, Spanish and French.
2, TABI Diary  Equipped with a new function to create and save diaries with photos and memories of your journey in Japan. The diaries can also be posted on Facebook.
3, Added OMOTENASHI GUIDE (developed by YAMAHA CORPORATION ) , an app that displays Japanese audio announcements in multiple languages. ( http://omotenashiguide.jp/ )
4, Interfaced with LIVE JAPAN, an online service that provides accurate, detailed tourism information on various places in Tokyo in real time.
5, Interfaced with WAmazing, the app that enables users to book and pay for tours etc. over a convenient wireless network while visiting Japan. (Available only in Traditional Chinese as of July 2017)
6, Interfaced with NaviCon, an app that transmits locations found on smartphones to car navigation systems at the touch of a button. ( https://navicon.com/user/support/ )
This App's list of functions:
Life and Culture (regulations, dining (menus), shopping); Free Wi – Fi Guide; Weather Forecast; Speech Translation; Currency Converter (yen ⇔ other currencies); Bookmark; Transfer Guide (connection search, guide to transport use, etc.); Tourism Information; Phrase Book (foreign languages, Japanese translation, reading Japanese, mean ing of words, etc.); Essential Emergency Information (emergency response, contact numbers, embassy information, etc.) ; Useful Information (duty – free ordering, flight information, Japanese news); etc.
[via=Narita AirPort]