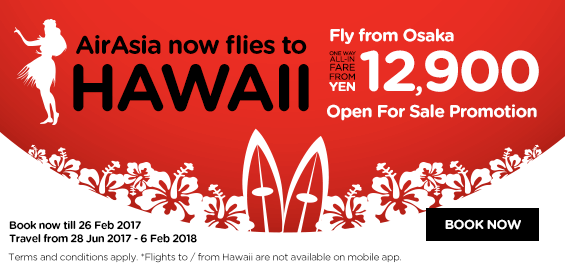 AirAsia is holding "now flies to HAWAII SALE" from February 11, 2017.
AirAsia decided to go into service to Osaka ⇔ Hawaii route from June 28, 2017.

・The route & fare
Osaka(Kansai) ⇔ Hawaii / Honolulu
12,900JPY〜
※ One-way fare
※ A fuel surcharge and tax includes it

Sale period:Feb 11, 2017 – Feb 26, 2017
Travel period:Jun 28, 2017 – Feb 6, 2018
■Flight Schedule for Kuala Lumpur, Malaysia (KUL) to Honolulu, Hawaii (HNL) via Osaka, Japan (KIX)


AirAsia will be in service from June to Hawaii's first route as LCC.
It is amazing to be able to go to Hawaii at this price.
This is a long-term ticket for the first sale until February next year.
Honolulu is a city in Oahu Island, Hawaii, famous for the Honolulu Marathon and Waikiki Beach.
Much LCC goes into service in Osaka, and the routes to the resort increase by this service with Guam route of the T'Way Airlines.
[via=AirAsia]